Posts Tagged 'wedstrijd'

De Sony World Photography Awards is een internationale wedstrijd voor zowel amateurs als professionals.
Met meer dan 105 000 inzendingen uit 162 landen is deze wedstrijd best wel groot en populair te noemen.
De voorbij jaren nam ik steeds deel aan deze wedstrijd en alhoewel mijn vorige deelnames niet echt succesvol waren, besloot ik dit jaar toch maar om weer enkele foto's in te sturen.
Vooral ook omdat er dit jaar een categorie in de open competitie (amateurs) aanwezig was die mij wel aansprak. De "After Dark" categorie.

Op 1 februari maakte de organisatie de shortlist, een lijst met de beste foto's per categorie waaruit de uiteindelijke winnaar zal worden gekozen, bekend.
Helaas, mijn werk was er niet bij.
Sony World Photography Awards 2011 Shortlist: Klik

Mijn verbazing was dan ook groot toen ik begin vorige week een mailtje kreeg van de organisatie:
"From a total of 51,878 photographs entered into the Open Competition alone, it was certainly a difficult decision for all our esteemed judges to narrow the many excellent entries down to a shortlist and we thank you for your hard work and commitment to capturing and submitting some amazing images.
Whilst you have not been shortlisted into the top 10 in each category your work has been selected for commendation which is given to the top 50 images in each category. The commended images will appear on the website in due course but, significantly, will also feature in the official 2011 Sony World Photography Awards Winner's Book.
Well done."
.
Aangezien ik met meerdere foto's had deelgenomen, had ik geen idee welke foto deze eervolle vermelding had gekregen.
Vandaag werd de lijst van "commended images" bekendgemaakt door de organistie.
Dit is de foto die een eervolle vermelding heeft gekregen:
[singlepic id=4 w=400 h=300 float=center]
Sony World Photography Awards 2011 – After Dark Commended Photographers: klik
Sony World Photography Awards 2011 – Open Competition Commended Photographers: klik


Eind 2010 nam ik, voor het eerst, deel aan de 2011 Creative Photography Awards.
Deze, jaarlijkse, fotografiewedstrijd wordt georganiseerd door het "Center for Railroad Photography & Art", een Amerikaanse organisatie die het verzamelen en het bewaren van kunst en foto's, die te maken hebben met de spoorwegen, als hoofddoel heeft.  Naast het organiseren van deze jaarlijkse fotografiewedstrijd, brengen ze een eigen magazine uit en organiseren ze tentoonstellingen en conferenties.
Elk jaar is er een thema waarrond de wedstrijd wordt georganiseerd en dit jaar was dat thema: "A story in three photographs"

Ik stuurde de volgende drie foto's in:
[nggallery id=1]
Het resultaat werd recent bekendgemaakt.
Ik haalde de top drie net niet, maar mijn inzending kreeg wel een eervolle vermelding en werd geselecteerd in de "Judge Also Liked" categorie.
Als beloning worden de foto's gepubliceerd in het magazine "Railroad Heritage" en zullen ze ook, samen met de foto's van de andere winnaars, worden tentoongesteld in het California State Railroad Museum.
Een overzicht van de winnaars: http://www.railphoto-art.org/award2011/

.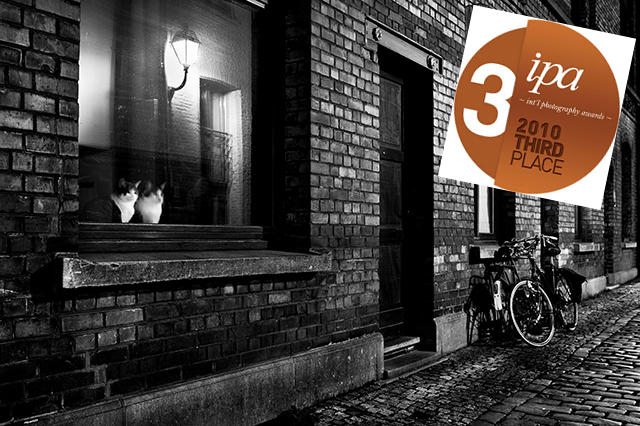 In april nam ik, zonder al te veel verwachtingen, deel aan de International Photography Awards (IPA).  De IPA is een wedstrijd die ik de voorbije jaren aan me voorbij liet gaan.  Dit jaar besloot ik toch maar eens mijn kans te wagen.
Ik zond zes foto's in:  Eén foto in de categorie "Special – Pets non-pro".  De andere vijf werden als serie ingezonden in de categorie "Special – Other non-pro".
24 augustus kreeg ik een verrassend mailtje in mijn inbox:
Dear Contestant,
Congratulations. We are proud to announce that your photographic work has placed 1st, 2nd or 3rd in one or more of the subcategories in the 2010 International Photography Awards. In our 8th year, we are extremely honored to have received an unanticipated number of entries, nearly 15,000 submissions spanning 103 countries. The IPA has established itself as an internationally recognized competition that continues to garner the attention of the photography community worldwide.
…
Regards,
Sarah Cho
Competition Director
International Photography Awards
Ik kon niet snel genoeg naar de IPA site surfen en kwam tot de vaststelling dat mijn foto "Night watch" met een derde plaats was beloond in de categorie "Special – Pets non-pro".
De  'Winners Gallery':  Klik
Ook werd ik beloond met een 'Honorable Mention' voor mijn inzending "Night shift", een reeks van 5 nachtfoto's.
De 'Honorable Mention Gallery': Klik
Uiteraard ben ik in de wolken met dit resultaat.